Anna Sui Love Perfume & Fine Fragrance
Perfume Guide - Perfume House A - Anna Sui - Sui Love
Anna Sui's origins are very evident in the creation of Sui Love. The Chinese-American designer has included bergamot, passion fruit blended, oriental orange flower, lush florals, softened with vanilla and musk to produce an energetic scent that is feminine and youthful in its appearance and tonality. Housed in an absolutely gorgeous butterfly shaped bottle Sui Love is a joy to wear and look at!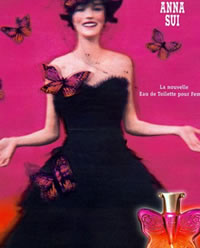 Buy Online - Anna Sui Love Perfume from Slapiton


Buy Online - Anna Sui Love Perfume from Perfume4U
Anna Sui created Anna Sui Love as the thrid fragrance in her now unique and beautiful perfume collection. Anna Sui Love is an uplifting, feminine blend of floral notes that creates a delicate and fragrant mood.
Anna Sui Love was inspired by Anna Sui's love of the 1960's and the ethos of Peace and Love. The beautiful butterfly-shaped bottle contains a fruity and flowery juice blossoming into a warm trail of musk and vanilla. The butterfly was chosen because of its feminine, exotic and peaceful qualities.

Anna Sui Love perfume blends Sicilian bergamot, Japanese osmanthus, and passion fruit over a middle note of Italian violet, orange blossoms, water lily, Egyptian jasmine, white rose petals, and tuberose, shrouded by a subtle note of pink pepper and over a base of vanilla and ambrette seed.

Anna Sui Love Perfume:
Perfume Type - Floral Perfume
Release Date - 2002
Perfume
This is the extract or extrait of a fragrance and represents the scent in its purest form. This often creates a smooth and round texture, which is hard to achieve with the dilution represented in the other concentrations of fragrance.
EDP
Eau de Parfum or EDP is one of the most popular forms of fragrance. Eau de Parfum contains between seven to fourteen per cent of fragrance oils and perfume elixirs and is the second strongest, and longest lasting means of wearing a fine fragrance.
EDT
Eau de Toilette or EDT is fast becoming the most common means of wearing a fragrance or perfume. EDT's are not as highly concentrated in oils and elixirs as an EDP or Perfume would be and contain one to three per cent of fragrance oils. This impacts the ability of the fragrance to last and around eighty percent of the oils in an EDT fragrance will evaporate within three hours of application.
EDC
Eau de Cologne's or EDC's were first popularised by Napoleon. These fragrances are often constructed in a different manner to the traditional French Model and are formulated in one single burst. As a result of this process, EDC's or Eau de Colognes last the least amount of time on the skin and can dissolve within a couple of hours. EDC's should be worn as a invigorating spray.