Anna Sui Secret Wish Perfume & Fine Fragrance
Perfume Guide - Perfume House A - Anna Sui - Anna Sui Secret Wish
Anna Sui Secret Wish Perfume is a fairytale perfume, created with a wishful and joyful blend of floral and fruity notes. Sparkling Melon, lemon and amber melt into a floral heart and vanilla base, for a magical mix of sparkling summer fruits, romantic florals and earthy inspirations.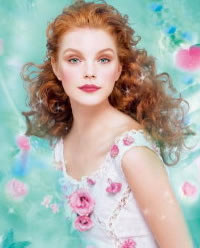 Buy Online - Anna Sui Secret Wish Perfume from Slapiton


Buy Online - Anna Sui Secret Wish Perfume from Powderpuff
Anna Sui Secret Wish perfume was created by Anna Sui for the woman that loves to explore different worlds, faraway places, other times and cultures.
Anna Sui Secret Wish perfume invites the wearer to close their eyes and make a wish… Anna Sui Secret Wish perfume is a magical and romantic blend of fruity and floral notes that tries to give the wearer to transport themselves to their childhood fairytales and dreams.

Anna Sui Secret Wish combines fresh and feminine top notes of lemon, marigold and melon, over a rich and fruity floral heart of blackcurrant bud, cassis, jasmine, rose and pineapple and a rich base of white cedarwood, amber, and skin musk complex.

Anna Sui Secret Wish Perfume:
Perfume Type - Fruity Floral Perfume
Release Date - 2005
Perfume
This is the extract or extrait of a fragrance and represents the scent in its purest form. This often creates a smooth and round texture, which is hard to achieve with the dilution represented in the other concentrations of fragrance.
EDP
Eau de Parfum or EDP is one of the most popular forms of fragrance. Eau de Parfum contains between seven to fourteen per cent of fragrance oils and perfume elixirs and is the second strongest, and longest lasting means of wearing a fine fragrance.
EDT
Eau de Toilette or EDT is fast becoming the most common means of wearing a fragrance or perfume. EDT's are not as highly concentrated in oils and elixirs as an EDP or Perfume would be and contain one to three per cent of fragrance oils. This impacts the ability of the fragrance to last and around eighty percent of the oils in an EDT fragrance will evaporate within three hours of application.
EDC
Eau de Cologne's or EDC's were first popularised by Napoleon. These fragrances are often constructed in a different manner to the traditional French Model and are formulated in one single burst. As a result of this process, EDC's or Eau de Colognes last the least amount of time on the skin and can dissolve within a couple of hours. EDC's should be worn as a invigorating spray.