L'Interdit Perfume & Fine Fragrance
Perfume Guide - Perfume House G - Givenchy - L'Interdit
One of the Givenchy's earliest scents, designed specifically for actress Audrey Hepburn in 1957, L'Interdit perfume is as beautiful and elegant as its muse. Givenchy L'Interdit perfume owes its name to the actress's reply when Hubert de Givenchy suggested distributing her fragrance more widely, 'Mais, je vous l'interdis…' ("But I forbid it!").

Buy Online - Givenchy L'Interdit Perfume from Slapiton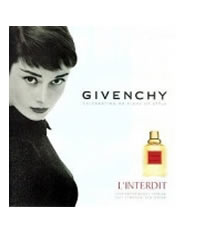 Buy Online - Givenchy L'Interdit Perfume from Pefume Emporium


Buy Online - Givenchy L'Interdit Perfume from StrawberryNET
Givenchy L'Interdit is a soft and lasting; light and warm floral perfume that captivates the heart and emerses the soul in a world of elegance, chic and beauty.
L'Interdit epitomizes Givenchy's unique mix of French fashion and American spontaneity. Givenchy L'Interdit perfume combines rare and precious essences highlighted by aldehydic head notes, expressing the romantic elegance and feminine seduction. It begins with a chic and understated blend of Aldehydes and Bulgarian Rose over an elegant and sophisticated floral heart of rose, jasmine, violet and pink pepper and a warm, sensual base of iris, frankincense, sandalwood and tonka bean.

Givenchy L'Interdit Perfume:
Perfume Type - Floral Perfume
Release Date - 1957
Perfume
This is the extract or extrait of a fragrance and represents the scent in its purest form. This often creates a smooth and round texture, which is hard to achieve with the dilution represented in the other concentrations of fragrance.
EDP
Eau de Parfum or EDP is one of the most popular forms of fragrance. Eau de Parfum contains between seven to fourteen per cent of fragrance oils and perfume elixirs and is the second strongest, and longest lasting means of wearing a fine fragrance.
EDT
Eau de Toilette or EDT is fast becoming the most common means of wearing a fragrance or perfume. EDT's are not as highly concentrated in oils and elixirs as an EDP or Perfume would be and contain one to three per cent of fragrance oils. This impacts the ability of the fragrance to last and around eighty percent of the oils in an EDT fragrance will evaporate within three hours of application.
EDC
Eau de Cologne's or EDC's were first popularised by Napoleon. These fragrances are often constructed in a different manner to the traditional French Model and are formulated in one single burst. As a result of this process, EDC's or Eau de Colognes last the least amount of time on the skin and can dissolve within a couple of hours. EDC's should be worn as a invigorating spray.