Organza Perfume & Fine Fragrance
Perfume Guide - Perfume House G - Givenchy - Organza
Givenchy articulates the facets of eternal femininity by creating a timeless perfume that combines rich florals and soft woods. Organza is a very refined fabric, as transparent as muslin, much appreciated in Haute Couture for its lightness. It is inviting to the touch and evokes sensuality, festivity, gaiety and Haute Couture, a sensation and concept that Givenchy have translated into this beautiful perfume.

Buy Online - Givenchy Organza Perfume from Slapiton


Buy Online - Givenchy Organza Perfume from Powderpuff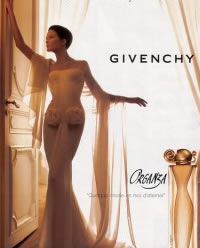 Buy Online - Givenchy Organza Perfume from Pefume Emporium
Givenchy Organza is a perfume of mythical seduction that donates the wearer a timeless allure.
Givenchy Organza celebrates the source of femininity itself, to rouse the goddess in hiding in every woman, by revealing her purity and elegance, but also her sensuality. Givenchy Organza is a beautiful floral, oriental and woody fragrance. Givenchy Organza combines the freshness of sap, honeysuckle and rosewood with the voluptuousness of gardenias, poppies and tuberoses and the intensity and timelessness of amber and nutmeg.

Givenchy Organza is housed in a unique and beautiful bottle that is shaped like a sculpture recalling a Greek statue or a transparent glass column, it has the fluidity of a woman's body along with the extravagance of a baroque abstract design of the cap, reminiscent of an Egyptian headdress.

Givenchy Organza Perfume:
Perfume Type - Floral Oriental Perfume
Release Date - 1996
Perfume
This is the extract or extrait of a fragrance and represents the scent in its purest form. This often creates a smooth and round texture, which is hard to achieve with the dilution represented in the other concentrations of fragrance.
EDP
Eau de Parfum or EDP is one of the most popular forms of fragrance. Eau de Parfum contains between seven to fourteen per cent of fragrance oils and perfume elixirs and is the second strongest, and longest lasting means of wearing a fine fragrance.
EDT
Eau de Toilette or EDT is fast becoming the most common means of wearing a fragrance or perfume. EDT's are not as highly concentrated in oils and elixirs as an EDP or Perfume would be and contain one to three per cent of fragrance oils. This impacts the ability of the fragrance to last and around eighty percent of the oils in an EDT fragrance will evaporate within three hours of application.
EDC
Eau de Cologne's or EDC's were first popularised by Napoleon. These fragrances are often constructed in a different manner to the traditional French Model and are formulated in one single burst. As a result of this process, EDC's or Eau de Colognes last the least amount of time on the skin and can dissolve within a couple of hours. EDC's should be worn as a invigorating spray.