Very Irresistible Perfume & Fine Fragrance
Perfume Guide - Perfume House G - Givenchy - Very Irresisitible
Givenchy Very Irresistible perfume by is a homage to Givenchy's early days when fashion and cinema were intertwined. Very Irresistible Givenchy, unites the elegant tradition of French style with the energy and style of American film culture with their new spokesperson, the very elegant Liv Tyler.

Buy Online - Givenchy Very Irresistible Perfume from Slapiton


Buy Online - Givenchy Very Irresistible Perfume from Powderpuff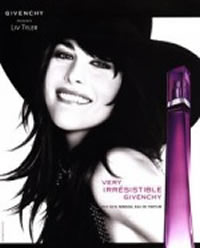 Buy Online - Givenchy Very Irresistible Perfume from Pefume Emporium
Givenchy Very Irresistible is bursting with roses and infused with star anise, and verbena leaf. This makes Very Irresistible Givenchy a fresh departure from the traditional floral fragrance.

AGivenchy Very Irresistible is a rose based perfume with over 35% of the elegant and timeless scent of the fragrance deriving from rose. In addition to the 35% rose which is the central theme of this perfume, Givenchy Very Irresisitible brings together sunny notes like star anise and verbena leaf. This creates a unique and resh and energetic perfume, that creates a vibrant juice, created to surprise and seduce, playing on all the subtle variations on the theme of roses.

Givenchy Very Irresistible Perfume:
Perfume Type - Floral Perfume
Release Date - 2003
Perfume
This is the extract or extrait of a fragrance and represents the scent in its purest form. This often creates a smooth and round texture, which is hard to achieve with the dilution represented in the other concentrations of fragrance.
EDP
Eau de Parfum or EDP is one of the most popular forms of fragrance. Eau de Parfum contains between seven to fourteen per cent of fragrance oils and perfume elixirs and is the second strongest, and longest lasting means of wearing a fine fragrance.
EDT
Eau de Toilette or EDT is fast becoming the most common means of wearing a fragrance or perfume. EDT's are not as highly concentrated in oils and elixirs as an EDP or Perfume would be and contain one to three per cent of fragrance oils. This impacts the ability of the fragrance to last and around eighty percent of the oils in an EDT fragrance will evaporate within three hours of application.
EDC
Eau de Cologne's or EDC's were first popularised by Napoleon. These fragrances are often constructed in a different manner to the traditional French Model and are formulated in one single burst. As a result of this process, EDC's or Eau de Colognes last the least amount of time on the skin and can dissolve within a couple of hours. EDC's should be worn as a invigorating spray.