Lacoste Style In Play
Perfume Guide - Perfume House L - Lacoste - Style In Play
Lacoste Style In Play aftershave is a fresh, invigorating scent for men who want to achieve! Lacoste Style in Play aftershave was created in 2004 as a fragrance for active, competitive men.

Lacoste Style In Play is a fresh, aromatic fruity fragrance for men that is full of life and energy, the perfect tonic before you play sport.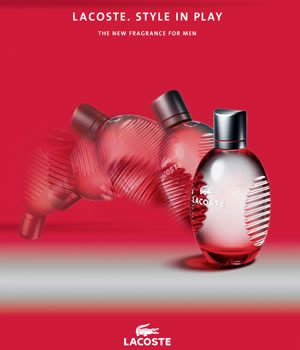 Buy Online - Lacoste Style In Play Aftershave from Slapiton
Lacoste Style In PLay aftershave opens with fruity and almost frosty top notes of tangy and fresh Manzana Verde, Liqueur, Apple and unusual Maclura, these are blended over the harmonious and serene heart of Thuja, Jasmine, Cedar Leaves and an aromatic yet deep base of Patchouli, Vetiver and Musk.
Lacoste Touch Of Pink TV Commercial
Perfume
This is the extract or extrait of a fragrance and represents the scent in its purest form. This often creates a smooth and round texture, which is hard to achieve with the dilution represented in the other concentrations of fragrance.
EDP
Eau de Parfum or EDP is one of the most popular forms of fragrance. Eau de Parfum contains between seven to fourteen per cent of fragrance oils and perfume elixirs and is the second strongest, and longest lasting means of wearing a fine fragrance.
EDT
Eau de Toilette or EDT is fast becoming the most common means of wearing a fragrance or perfume. EDT's are not as highly concentrated in oils and elixirs as an EDP or Perfume would be and contain one to three per cent of fragrance oils. This impacts the ability of the fragrance to last and around eighty percent of the oils in an EDT fragrance will evaporate within three hours of application.
EDC
Eau de Cologne's or EDC's were first popularised by Napoleon. These fragrances are often constructed in a different manner to the traditional French Model and are formulated in one single burst. As a result of this process, EDC's or Eau de Colognes last the least amount of time on the skin and can dissolve within a couple of hours. EDC's should be worn as a invigorating spray.