Insolence becomes more mysterious!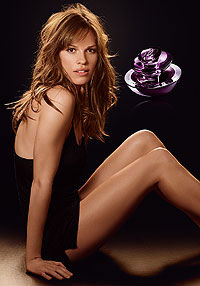 Guerlain have just introduced a new version of their incredibly successful Insolence perfume. Accompanied with a sexy, somewhat tousled-looking Hilary Swank, this new version is a deeper, more mysterious and exotic juice housed in a new bottle with a metallic, darker-purple.
Guerlain Insolence perfume is sultrier and more carnal with a stronger violet, iris and red berry theme with more ambre and woody notes, including tonka bean, sandalwood and delicate blonde woods.
With this new launch is a new limited edition shimmering and body enhancing lotion.
Labels: Female Fragrance, Guerlain Perfume