Guerlain brings out the Animal in you with Guerlain Homme.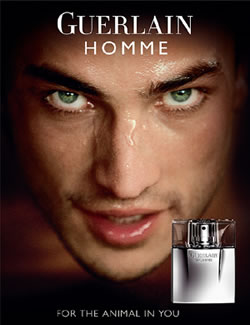 Guerlain Homme is an instant tonic for your senses that revives your inner animal with an exclusive, never used before Mojito cocktail essence! As with all Guerlain fragrances, it is definately one for the connioseur with a fragrance wardrobe and a gap for a lime, mint and woody essence!
Guerlain Homme has the key mojito accord of lime, mint, rum at the heart of this fabulous new fragrace this is surrounded by bergamot, rhubarb and green tea toreinforce the sensation of freshness, whilst Geranium brings a hint of flowers and a woody end of vetiver and cedar add that touch of Guerlain magic.
Guerlain Homme is part of a new trend in perfumery this year that sees min making a comeback in perfumery. The essence, which has been out of vogue recently for being too clean, too sharp and too old fashioned, seems to have made a comeback. Cartier has made it the star of their new men's scent, Roadster, Jo Malone's aromatic-floral White Jasmine & Mint, Calvin Klein's woody Man and Hugo Boss's fresh-aromatic Hugo XY.
For more information on Guerlain Homme visit
Guerlain.com
or to buy online visit
Slapiton
.
Labels: Guerlain Perfume, Male Fragrance