Hot Firey Perfumes For Bonfire Night!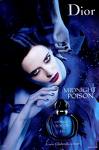 If you want to turn the heat with a firey hot and woody perfume this November 5th then look no further than our top 5 seductive, burning olfactory treats.
1 - Vivienne Westwood's Let it Rock is the perfect woody oriental that spices up any night with a rich sensual heart of patchouli, wrapped in amber and mandarin orange and softened with floral notes of freesia and jasmine. From £29.50.
2 - Dior Midngiht Poison a bewitching and enchanting woody oriental with a mysterious rose over an oriental bed of ambry patchouli.
3 - Kylie Sweet Darling a effervescently sweet but hot oriental perfume with flower, fruit, dense wood and gourmand vanilla notes gently caressed by a sweet cotton-candy note. From £19.95
4 - Prada Tendre is a vibrant, luminous and sheer version of the original Prada fragrance that takes the original heavily oriental fragrance to a more aromatic level with the addition of subtle sexy and hot woody notes! From £42.00
5 - YSL Elle Intense a darkly seductive night time version of last years bewitchingly sexy scent with a fruity bite of lychee, raspberry over a woodsy-floral theme reinforced with iris and the more oriental notes of amber and benzoin. From £53.00
Labels: Female Fragrance