Galliano - King of Couture Creates a Sumptuous Scent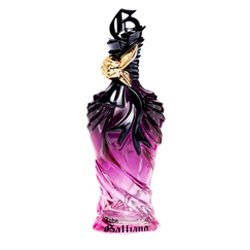 John Galliano has just launched his first perfume, exclusive to Harrods in the UK in 2008 and debuting nationwide to a limited selection of Top Retail Outlets in 2009.
John Galliano perfume is a volumptuous perfume that caresses the skin like the kiss of his world famous coutue collections. John Galliano is a sparkling essence combining aldehydes, mythical flowers, powdery amber & sophisticated wood aldehydes, for a bordelloesque aroma. These are lavishly combined with dazzling, effervescent notes of violet, iris and pink, powdered and very feminine, while musks remain tactile and fluxing with a sophisticated hint of dry woods.
John Galliano perfume is an assertive and theatrical fragrance which makes a glamorous entry, leaving in its trail the souvenir of an unforgettable encounter
The bottle is very Boldini in its spirit and just like a nineteenth century dress, the pink raspberry coloured glass darkens towards the neck of the bottle; a technique never used before on a perfume bottle. The golden rose crowns the bottle with a romance signature.
Every detail of the John Galliano fragrance has been thought about.The outer box is designed to look like a book, reminiscent of travel books that Galliano makes while on voyages he takes before the designing of a new collection, the bottle's neck was inspired by collars appearing in Galliano's first fashion collection, Les Incroyables, and the flacon is topped with a Gothic Rose. The beautfil Gothic Model is Guinevere Van Seenus, for a unique couture look.
For the launch of this phenomenol perfume John Galliano transformed his headquarters into Paris' remote 20th arrondissement, scattering love letters, statuaries, bowls of fruit and his frothy bias-cut dresses to evoke the sense the perfumes' wearer just left the room but the fragrance captured her essence.
Labels: Female Fragrance, John Galliano