Lolita turns the clock to midnight with Lolita Lempicka Midnight Rendezvous.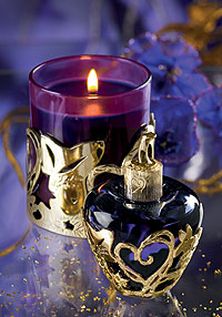 Lolita Lempicka's yearly Christmas edition is more intense and powerfully seductive than ever before.
Lolita Lempicka Midnight Rendezvous is a nocturnal version of her first fragrance Lolita. In the this Christmas collection Lolita uses the inspiration of the Snow White fairytale with a richly evocative perfume that seduces and entices from the moment it is smelt.,
Lolita Lempicka Midnight Rendezvous creates a mouthwateringly sweet, gourmand scent of violet, myrrh, iris, anise, ivy and jasmine, while the trio of base notes introduces warm and intoxicating Tonka, velvety vanilla and benzoin accords.
It also comes in a plum-colored scented candle wrapped in metal lace, for a beautiful home accessory.
Labels: Female Fragrance, Lolita Lempicka