Prada creates an Infusion for Men.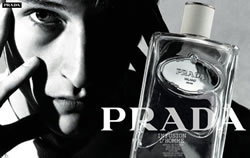 Prada Infusion Homme is an unusual and very classy aftershave that brings to mind a powerful, refreshing shower with each spritz. Prada Infusion Homme couples the equally clean and elegant female launch of 2007 Prada Infusion D'Iris. Like Infusion d'Iris, it works closely with the body's chemistry to create a subtle yet distinctive scent, which is inspired by the finest traditions of classic perfumery.

Housed in a sensationally stunning bottle this fragrance is definitely one for every sophisticated man out there and even those who aspire to dandy elegance! The juice is effortlessly stylish and almost arrogantly sophisticated with a blend of Tunisian neroli, iris pallida, vetiver,linen, mandarin orange, galbanum, benzoin, frankincense,cedarwood, incense and benzoin.
Labels: Male Fragrance, Prada Perfumes